Submitted by J-P on Sat, 05/04/2014 - 17:53
Why so small, you ask?
So! Happy days are here at last. That is, a happy day is here. The weather was mediocre, minimising the temptations of the outside world, but not so horrific you wouldn't tolerate it for a few short minutes in-between venues in the name of ever more board games.
I had a small hand in helping with TTDBrum this year. Mostly, that consisted of rushing around at the last minute trying to accomplish tasks I should have done in the last week or two. Last night I was in the final stages of preparing. I was busy keeping my pregnant wife up to iron t-shirt transfers onto t-shirts, busy putting the finishing touches on my shiny new website, and busy crying over spilt milk.
You know how smug I was earlier in the year? Well, maybe you don't, so here's a reminder. The tl;dr version of the link is 'look, I can do t-shirt transfers, I remember that obvious skill every 10-year-old has mastered and I think that makes me special.'
Well, come last night when I realised this new batch of t-shirt transfers were not the same type as those in the link above, but a previous batch that I afterwards worked out I've had in one drawer or another since I was about 16 - yeah, I know - I had already printed out all six t-shirts worth of large, full-chest style transfers. Huge, beautiful logos that just happened to be totally useless because they were not horizontally flipped. That is, unless everyone who wore them carried around a special purpose mirror. Which I was tired and crazed enough to consider suggesting.
Fortunately, not totally unprepared, I had a spare sheet and made it count. Managing to print enough for six t-shirts on one sheet. The result looked like this:
It just goes to show two things: 1. I'm an idiot. 2. I'm lucky. 3. I'm still an idiot.
Most idiotic of all, in fact, that I've written so much blog post already and I haven't even got to the actual event yet! But what is there to say? Smiling happy faces. New friends made. Many games played. I even (tentatively - I need to get better at this) handed out some Next England Captain cards! And as always, the ingenuity of my fellow gamers impressed me.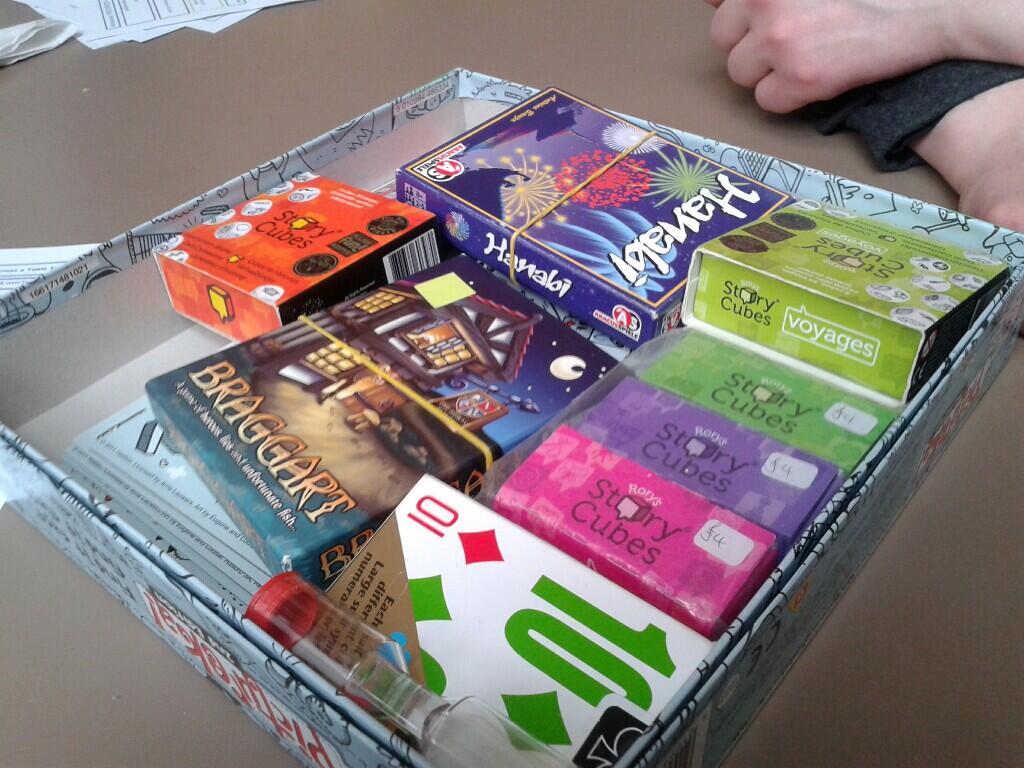 very efficiently packed game box ready for a trans-city adventure.
It's a single game box with a million of Heather Ramsden's games inside, most of which were played and made up part of what was a great day. So, same time next year? You bet!